Good God: Holt Pope Edition
Anxiety slaps me awake as the morning of her interview dawns. At work, I alternate between worry she'll cancel and anguish over the inevitable subject matter. By the time two o'clock rolls around and I'm driving to the coffee shop, I'm so far gone I need a paper bag. Holt's last-minute work meeting gives me a chance to ask the Barista if I can use the private space behind the sliding barn doors. Thankfully, I have just enough time to re-arrange the chairs to achieve positional perfection while sipping my highly caffeinated beverage. When Holt arrives, I awkwardly pay for her mixed tea as a small token of my thanks for doing the interview.
We make small talk while she settles her pregnant self into the thinly-padded Ikea armchair. She's expecting her third–a little girl they plan to name Hannah. Silence falls and I know it's time. As soon as I hit record on my phone, I launch into my first question. "Will you tell me a little about what happened?"
Condensation rolls down the cup as she sets her tea next to her. "When I was pregnant with Stone, at my twenty-week ultrasound, the nurse said, 'I see enough normal to know that his heart is not normal, so we're going to send you to a specialist.' They sent us to a specialist in Columbia. The doctor didn't have the greatest bedside manner and was like, 'Yeah, your child definitely has a heart defect.' From that moment on, our world changed. We were sent to a specialist in Charleston and they diagnosed Stone with not one, but four major heart defects. In utero, they said we have nothing to worry about and, once born, he would have one surgery to fix things and he should be fine."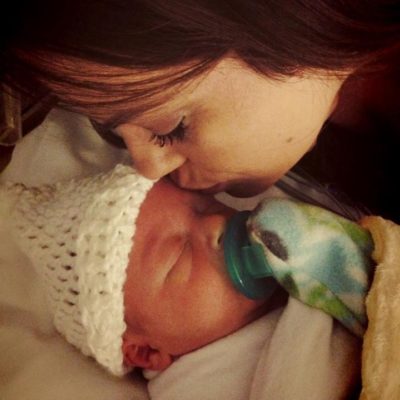 "Stone was born by c-section at MUSC on August 22, 2013. He cried just like every other newborn baby. He was eight pounds, thirteen ounces, which was huge for a heart baby–usually they're a lot smaller. For the first week, to look at him, you wouldn't know there was anything wrong with him. A few days before he was a week old, the surgeon sat down with us. Up until that point, the doctors had been very optimistic. 'One surgery–done. He's going to live a normal, healthy life.' We kept trusting the doctors and that God was speaking through the doctors and the process. But the surgeon was the dose of reality we weren't ready for–what pulled the rug from underneath us. This was the guy who actually had to do it, so he's going to be honest with you. He said how extreme the procedure is he was about to do. He told us, 'We won't know until we really get in there,' instead of, 'One surgery–done. We're good.' It ended up being a ten-and-a-half hour surgery. He said there were a few areas they wanted to keep an eye on, but it looked like it was successful. They told us to go home, eat, and rest. We got a call at dinner that he was crashing, but they'd stabilized him by the time we made it back."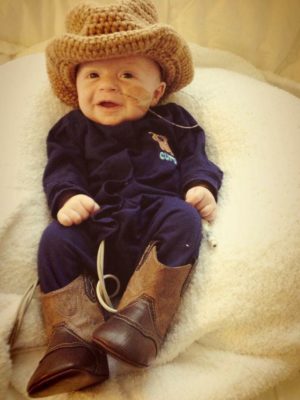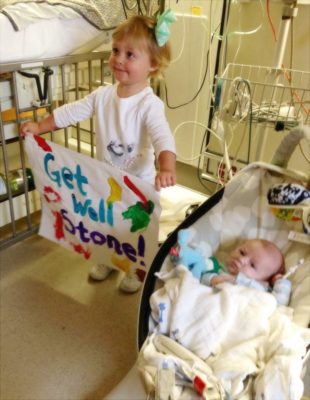 "Really after that, it was recovery. He spent sixty-five days in the hospital. The only thing that kept us there a little longer was his feeding issues, but we went home right before Halloween. All his checkups were pretty normal. He had RSV once and had to go back down to MUSC, but kicked it within a couple of days like normal, healthy kids would. Then … really, a normal childhood."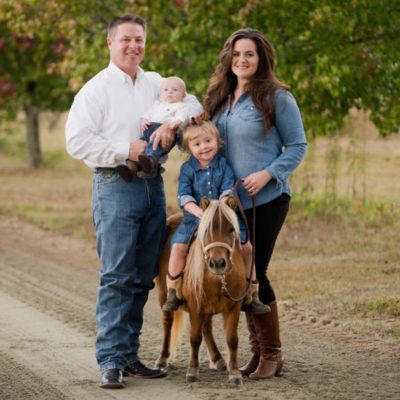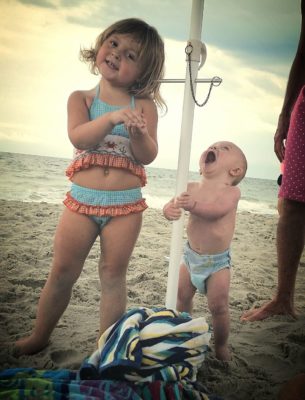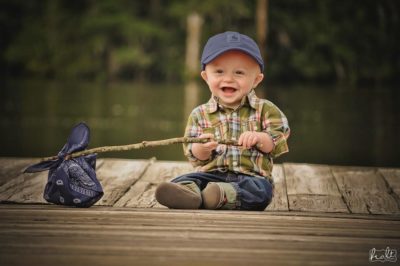 I try to stop the dread, but it creeps in and sets up camp in my stomach.
"And then one day he got sick and we took him down to Charleston and they couldn't figure out what was wrong with him because everything showed up fine. We got home and spent the weekend with him. It was actually the opening weekend of my photography studio and I was set to open it the next day. I remember feeding him a bottle at four o'clock in the morning–"
The espresso machine's steamy whistle fills the air as she pauses in an attempt to regain control. But her face crumples and she cannot stop the tears.
"–and just holding him. I put him in his crib and went back upstairs to go to sleep. Usually when I came down the steps to get them ready for daycare, he'd be standing up with his big smile, and he wasn't. But he usually didn't eat that late in the morning so I thought it wasn't that weird for him to still be sleeping. I looked, and his chest wasn't going up and down. I thought, 'Surely I'm not seeing this.' So I went in there and he wasn't–he wasn't blue. It just looked like he was sleeping. I grabbed him and started screaming for my husband, Shane, because I didn't know what to do. And it just became chaos after that. Madison–" She pauses to let the worst of her pain pass before finishing her next thought about Stone's older sister. "–she had to see the whole thing. She was hysterical. We were on the phone with the ambulance and trying to do CPR on him."
Her anguish is so painful to witness that I stare down at my lap and watch my own tears fall.
"They wouldn't let us ride with him in the ambulance and by the time we got to the hospital it was like– It wasn't real. We were in the backseat of a car that was taking us to the hospital to, to what? To try and save our son? To make plans to bury our son? When we got there, they had cut open his little Santa pj's–it was February, but they were about the only pj's that still fit him–and were trying to work on him. But they said there was nothing else they could do."
She wipes her eyes and stares into the distance.
"When Stone was born, I felt like God had prepared me for this. But I obviously never wanted it to happen like that, so it was a shock. Even though we went through what we went through with his heart surgery, it's not something I pictured. But Shane and I can look back on the week prior and see how God gave time to each of our parents and us individually, and I'm thankful I'm able to see that."
I sense she's already naturally leading into it, so I preface my second question. "Obviously my initial blog for this series was about you. I can remember when I finally put two and two together and saw you singing that song, "King of My Heart." I see the way you sing it …" I can't speak for a moment because of the lump in my throat. "… and I know you mean it. And I don't– I want to understand how you can say that God is good."
She's nodding her understanding before I finish my sentence and lets out an ironic laugh.
"When I was in the hospital just after Stone was born, my dad reminded me of something I'd said when I was younger. I'd told him that I always felt like I was one big fiery furnace away from truly understanding God. And when he told me that, I was like–" Her tears interrupt for a moment. "–of course I would say that. I feel like I'm pre-determining myself for something. But I never really had a trial that made me have no choice but to come face-to-face with God. So until you have that rug pulled out from under you–until you …" She pauses as she searches for the words. "… until you truly give up the illusion of control and realize that ultimately God's plan is God's plan …" She trails off but starts again with confidence. "I've always believed everything happens for a reason, but I didn't truly understand that until I started seeing Stone's life unfold in front of me–from the day he was born until the day he passed away. I got to see the miracles everyone had always talked about."
I don't know what expression I had after she made her statement, but she elaborated quickly nonetheless. "They hate to say it, but when I tell people that, they're like, 'Yeah, but wouldn't a miracle have been him coming back?' When we were in the ER and they'd told us he was gone, my mom hugged me and said, 'I'm praying for a miracle. I'm praying for a miracle.' And I said, 'Mom, you don't understand. His life is a miracle. He was not supposed to be here.' I mean–" She sobs. "I got seventeen months with a little boy who wasn't supposed to be here. He might not have made it past conception really. His life, as short as it was, was more of a blessing than I could've asked for. I felt like God had prepared me for anything that was going to happen in this boy's life. I was not expecting the end result we had, but I felt like God had given me more than I deserved. So I couldn't be ungrateful for the time I didn't have because I was so grateful for the time I did have. If that makes sense."
I say, "It does. And that sort of segues into my last question, which is the hardest for me." I take a deep breath. "What would you say to someone who would ask, 'If God is a good God, why would he allow that to happen?'"
Her response is immediate. "That's a hard question." The quiet hum of coffee preparation and news anchor chatter fills the air for long moments. "And … it's a loaded question." We laugh and the atmosphere of grief is disrupted.
"Please hear me when I say that I don't have a right answer," I add.
She says, "I don't think anybody does. That's the mystery of God." She pauses, searching for the right words. "The peace that I felt–I know that couldn't have come from anywhere else. There's no rational way I dealt with what I went through and could've been peaceful with it. Before Stone was born, I wouldn't have known how to listen for God. And no, I have not audibly heard the voice of God. But. But I'm looking for it now because I know how to listen. I grew up singing, but when Stone passed away, it became real to me that music was what God gave me to get me through this. When I am singing, I feel like I'm closest to God. When I'm right there leading a song, I feel like no amount of prayers or devotionals or anything can compete with being in that moment. It's more real to me now than it was when I was just leading worship. Not that I just led worship before, but everything has a deeper meaning since Stone passed away. I believe the deeper meaning you have with the gift God gives you, the more you can do with it."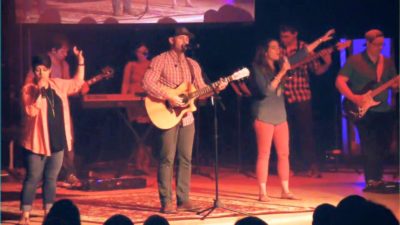 "It's hard to explain why God does things because no one knows–no one can. I believe, not that God makes things happen, but he allows them to bring people to him. That circumstances are allowed to happen to people to make them or others aware of Christ, and ultimately, of eternity. You want to say, 'Well God would never allow this to happen.' But it happened. The amount of people who were affected by Stone and his life, and ultimately his death leads to God. You can see God in all the people who came to know Christ through a little boy. I think the reaction to what happens is the most important thing. I could easily go the other way with it, but for Shane and I, it is choosing to look at what God gave us. Even in the heart-wrenching loss. It was knowing that what he gave us was more than enough."
He put a new song in my mouth, a hymn of praise to our God. Many will see and fear and put their trust in the LORD. Psalm 40:3
***
Holt is the director of admissions and marketing at Conway Christian School and is involved in the horse community and her husband's quarter horse business. They started the Heart of Stone Foundation in order to help other families with children born with congenital heart defects and regularly deliver Heart of Stone goodie bags to families at the Children's Heart Center at MUSC. She, her husband Shane, and six-year-old daughter Madison, welcomed Hannah Dell into the world on May 24, 2017.
If you'd like to hear more from Holt, check out The Rock Church's new series, Behind the Music, starting this Thursday, June 29, 2017 at 6:30 pm or this Sunday, July 2, 2017 at 9 or 11 am. But no worries if you miss it. You'll be able to find it in the archives.