On Grieving
I grew up believing no one was sad when old people died. It was just expected; part of the great "circle of life." Maybe I was too wrapped up in my adolescent self to notice the grief of those left behind. Maybe I simply didn't care. But the older I get, the more I see how wrong I was.
Early Saturday morning, I lost someone precious. With my grandma holding his hand, my grandpop breathed his last. He was only ninety-two.
I know. Being ninety-two means he lived a long, full life. So it's okay. All good. No need to grieve.
Using these words to try to soothe myself makes sense. After all, there are so many who are taken seemingly premature. (Let the guilt commence.) How dare I be sad about his ninety-two years on this earth coming to an end, when some don't get more than seventeen? Or even three! In a sense, I become my own worst enemy and stifle the grieving process. And I think it's a process that shouldn't be trifled with.
Because, expected or unexpected, twenty-two or ninety-two, death still sucks—even though I believe he's in a better place and no longer in pain. After sixty-nine years of being united as one, my grandma's love has been torn from her. My dad and aunts are without their father. Our family now has to depend on pictures to catch a glimpse of his sky-blue eyes. Yet pictures barely convey a hint of Grandpop's quick wit and magnetism.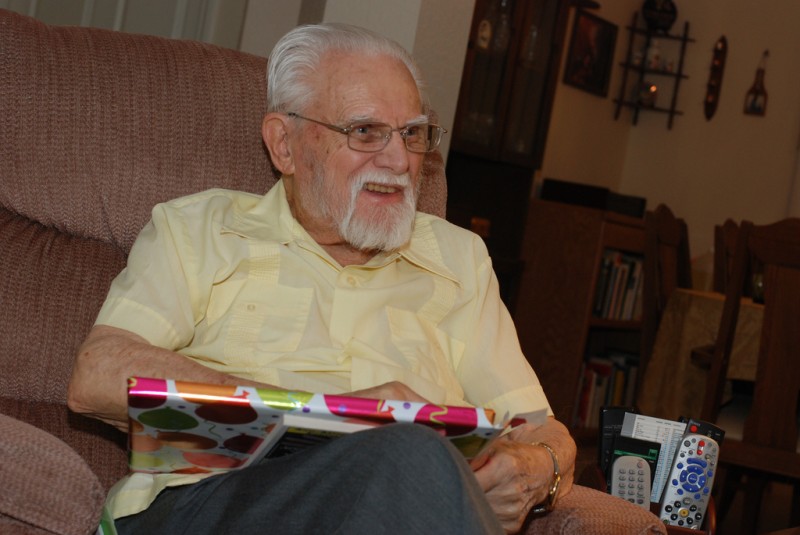 I'm glad the solution is so simple: I must stop repeating the trite phrases I've heard—and been guilty of speaking to others—so often. It's okay for me to be fine one minute and a puddle of goo the next. It's okay I wasn't the best granddaughter ever and have some regrets. It's okay for me to be happy to see a large portion of my family gathered together in one place for his funeral. And if I've learned anything from the death of my other grandparents, it's that I'll miss him at random times and no one will mind me crying my way through the next piece of pumpkin pie.
I'm pretty sure that's what grieving looks like.