That Time I Lost Control
I did not want to wuss out. The entire group of high schoolers were shouting up at me to go. But I sat shivering in a fiberglass boat seat, sixty feet in the air. I'd already climbed up trees taller than a six-story building, passed through an elevated maze, and walked on a quarter-inch-thick rope suspended over a river. And now, I had to muster every ounce of my courage to get back on solid ground.
I did have the option to wuss out. There were two ways to finish this particular high ropes course. Option #1: A pansy zip line. No one, I repeat no one, took that way down. Option #2: The Swinging Chariot. The bane of my ropes course experience. The Swinging Chariot was basically me, stepping off the sixty-foot-high platform (and away from the safety of the boat seat) into a freefall. Once I finished swinging and came to a stop, they would put up a ladder and collect my remains.
Not my idea of a good time.
Cowardly tears showered my lap and my shaking became uncontrollable, but I wasn't going anywhere just yet. I had an iron grip on the fiberglass. Finally, after an eon of encouraging shouts from the ground, I did a quick mental recap of my life, closed my eyes, and slid off the seat. I am proud to report that the only sound I emitted on the way down was a terrified grunt.
Two nights ago, as I lay in bed trembling violently and feeling as if I could projectile vomit at any moment, my mind re-played the horrors of the Swinging Chariot. Only this time, the item within in my iron grip was not a swiveling, fiberglass boat seat. It was my book.
I don't want to let it go.
In retrospect, my writing evolution has been similar to that high ropes course. Quitting my job to write full-time was scary and thrilling, but it was done. The writing itself was challenging and even a bit tedious, but I eventually navigated through. And here I sit at the end, on the relative safety of the platform. White-faced and clutching my book to my chest.
You have to understand that my book isn't a collection of characters I've grown to love or hate. I think that would be hard enough to share. But Let Me Fall is me. Raw. Exposed. Private. As the reader, you will figuratively be holding my heart in your hands. And the thought of willingly giving that kind of power to anyone is enough to send me into convulsions.
Going through this journey with God has been life-altering and I can never go back to the girl I was. That would be enough for me. I would be perfectly fine with taking the pansy way down. The problem is … I can't wuss out before God. Especially when, with all my certainty, I believe He wants me to end with the accursed Swinging Chariot.
I know how much you, dear reader, are already doing for me. Some of you have agreed to buy, and are even looking forward to reading Let Me Fall. All of you have shouted up your encouragement from the base of the tree. These are things I am extremely grateful for and I can never say thank you enough. But I find I must ask you for one more favor. And I ask because I believe you can remain honest in your feedback while doing so.
Please. Be careful with my heart.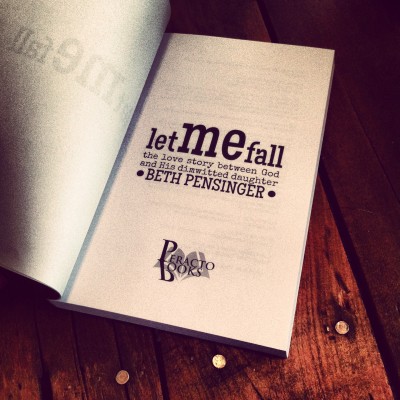 I promise to let you know how you can get your own copy of Let Me Fall in Thursday's post. And please don't forget about the Kindle Fire giveaway!