Phase One: Reconnaissance
Even before publishing, one of mine and Jerimiah's goals for Let Me Fall was to get at least one copy in each state. I'm finally implementing phase one: Reconnaissance. Which means I hope to hear from you, dear reader. Here's how you can help:
If you own a copy of Let Me Fall, please leave your name, city, and state in a comment here on the blog or on Facebook. You can leave your information even if your state is already mentioned (I do have more than one goal 😉 ). Once your state is listed, I'll color it in on this handy map I created out of pallet wood and chalkboard paint. (Don't look too closely at the New England states—my outlining got a little dicey.)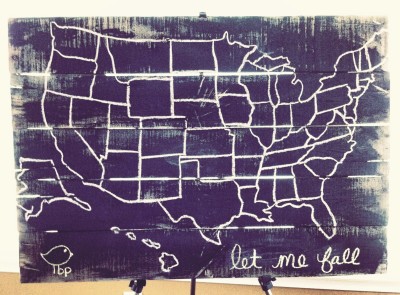 If you'll do this for me, I promise to enter your name into Peracto Books' next giveaway: a $50 Amazon gift card. The winner will be chosen randomly as soon as Let Me Fall has made it into every state.
Thanks for your help! Please stay tuned for details of phase two: Infiltration.