May Evangeline
This spirited girl from Philly turns 91 today. She can still remember sitting on the steps of her parent's house in 1939, listening to George VI deliver the infamous Kings Speech live over the airwaves. Impressive.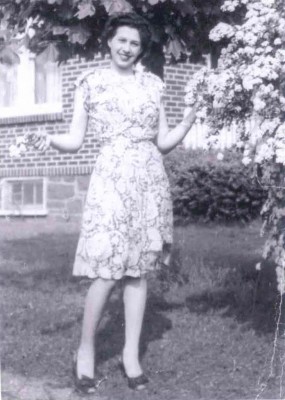 I'm not sure when her love affair with flowers and the art of arranging them was born, but it is as vital to her as breathing in oxygen. She also happens to be quite good at it. She's won every garden club award available and then some. In fact, she's gathering her knowledge and compiling it in a book…at age 91. Again, impressive.
But enough about her skills. What is she like? Well, my grandma is the only person to tell me I have the gait of a man. I must have been clomping along loudly while she was doing laundry in the basement. In her defense, I was an awkward fifth-grader, and I appreciated the fact that she called it like she saw it. Er, heard it. She balanced out my masculinity by taking me to get my ears pierced that summer.
I am not the only one in my family to inherit my grandma's squinty-eyed smile. But I'm not making fun. When her eyes almost disappear, you know you've just received the gift of a heartfelt smile. And she's good about gifting it often, being that she's full of sass and always ready to laugh.
I love you Grandma! Happy birthday!
P.S. I will have my first guest blogger on Wednesday, so stay tuned. I'm excited!