Murwine & Mary Lou: A Love Story
When asked about her teenage years, Mary Lou thought that times were hard and no boy would ever notice her. "A boy walked home with me one time," she said, "but he was asking how to get on the good side of my girl friend."
So she really didn't see Murwine coming.
The two met in 1941, at Jackson, Mississippi's First Baptist Church. Mary Lou thought Murwine was a "very nice boy" but said she had no idea he had "designs" on her. Murwine was not daunted by her obliviousness. When their group of friends went to the zoo, he paired off with her. Then he asked her to dinner and was subsequently invited to meet her parents.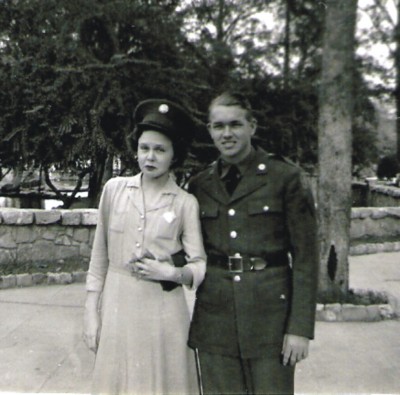 The two of them met because Murwine was stationed at the Army Air Force base there in Jackson. The attack on Pearl Harbor happened during the same year, and the 69th Bomb Squadron shipped out.
Murwine and Mary Lou's letters to each other started out light and friendly, but soon blossomed into love. The couple gradually decided they would marry, and when Murwine arrived back in the States, he proposed.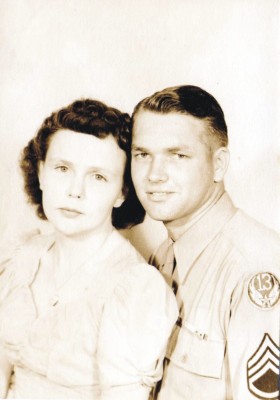 They were married in Pascagoula, MS, on June 9, 1944. Because they got married during war time and there were gas rations, Mary Lou barely made it to the neighboring town of Gulfport to buy a wedding dress. Even then, the best she could find was a long, blue dinner gown. Mary Lou said, "We were married in church but it was not a church wedding, if you know what I mean."
Their first apartment on base in Great Bend, KS consisted of one room with cement floors. They pushed the twin beds together and less than a year later, in 1945, my mom Carolyn was born. I'm not sure what size bed they obtained when they moved to Miami, FL; but whatever it was worked, and their second child, my uncle David, made his debut in1948.
Murwine once said he worried about what he and Mary Lou would talk about all the years of their marriage. Maybe that's why he memorized the tenor part of You Are My Sunshine. So they could sing together instead. But 57 years flew by without too much trouble. Murwine and Mary Lou remained faithful and devoted to each other until he passed away in 2001. Six years later, Mary Lou followed.
I know I'm partial, but I feel there's something to be said for my grandparent's story. It's simple and sweet. While it's not exciting enough to be re-told in Hollywood, it possesses a solid beauty from an era long gone.
So tomorrow, I will celebrate what would've been their 68th anniversary, considering it a testimony of true love.