The Worst Patient Ever
A mere two mornings ago, I was quite sure I'd have to be checked into the looney-bin. Sane people do not sob when their cold-blooded pets are sick, I thought to myself. But even rational thinking could not stem my flow of tears.
I had flashbacks to my turtle-rescue attempt in middle school. I'd found the little guy on the side of the road near my house; shell cracked and oozing blood. He spent the night in a basin by my bed while I cried and pleaded with him to eat the miracle-lettuce I was offering. The next morning, my brother Joe agreed to take the maimed hero-in-a-half-shell straight to his biology teacher where I was certain some sort of emergency surgery would take place. Years later, when I had the same biology teacher, I realized that turtle-assisted suicide was more likely the case.
But this was way worse than the turtle incident. Maybe my lack of children is the cause of me mothering my pets. Maybe the fragility of life struck me. It really didn't matter. All I knew was my little Pascal was dying. Slowly starving. Too weak to lift his head or even chew his food.
Jerimiah was pretty affected by the dreadful news himself. We huddled together over Pascal, coaxing him to eat some worms and drink vitamin-infused water from a dropper. There's something unexplainably precious about watching a tiny creature gulp water with human assistance.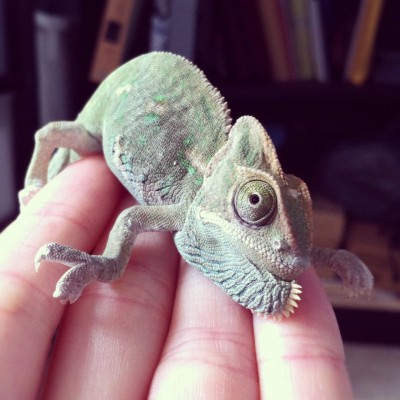 Pascal seems to be on the slow road to recovery. His grip is the slightest bit stronger. He ungracefully climbs down from his tree instead of falling off. His flailing attempt to get away from us packs a little more punch. And while he'll never know how much we care about him, we'll gladly take his healthy, hateful glares.
I'm not sure what to take away from this experience. Never give up? Jerimiah and I make a great reptile-nursing team? We give most to what we love most? I want kids pretty bad? I may never figure it out.
So maybe I shouldn't try. 🙂