Because I Said So
When asked as a teen what I wanted to do when I grew up, I would shrug and say, "I dunno. Help people?"
I was only eleven when Hurricane Andrew hit, and therefore too young to travel with my dad, older brothers, and the Disaster Relief team down to the ravaged south Florida area to help. I was angry for months.
The summer I was fifteen, my youth group and I had to put in a bunch of community service hours in order to qualify for a camp called World Changers. I'm ridiculously afraid of spiders (death to even Charlotte and her web), yet I crawled underneath a spider infested house to make repairs. When we actually got to Savannah, GA, we spent a grueling week at a sweet widow's house, painting, and fixing holes in her floor. And I was completely in my element.
A few years later at an all-day food drive, I got sun poisoning on the backs of my legs. Apparently, I was too busy passing out groceries and smiles to notice my slow-roasting skin.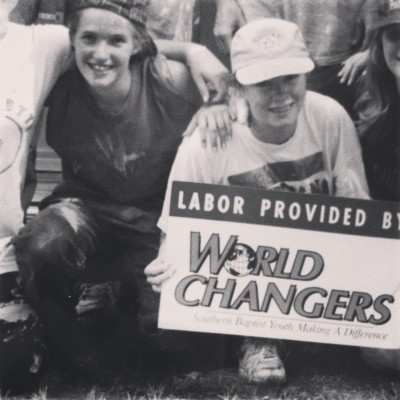 But as the years of my life tick by, I've noticed an alarming trend. Other than volunteering with kids at church, my days of helping people seem to have dwindled to nothing. Over this, I feel massive guilt.
Shouldn't I be out feeding the homeless in my spare time? Fixing houses for families who can't afford it? Seeking after a way to end sex trafficking? Biking across the country to raise money to provide clean drinking water? All are causes I could put my full passion behind.
It's not that I'm so overwhelmed I don't know where to start. I just haven't been given the directive to help with these causes. You see, the cool thing about God is that He invites us to be a part of what He's doing. But His invitations to us are not all for the same event. Right now, I'm pretty sure I'm supposed to be getting word out about this book He gave me. And writing more. And working on being a compelling speaker.
I have no idea what His invitations to me will look like in the future. Maybe He'll involve me in some other worthy cause. But for now, He's gently reminding me that the only cause I need to keep in mind is be-cause He said so.
Do you ever feel guilt with what God has, or doesn't have you doing? Is there something you wish He would direct you to do? Are you open to doing what He tells you to?
Posted in Spiritual-ish Musings and tagged because I said so, causes, helping people, obeying God. on May 2, 2013.