Soul Vomit
While talking to God yesterday I started to soul vomit my pesky worries at His feet. I don't operate well when something is bothering me. And I was bothered. But it felt like I was talking to a brick wall. Which made me worry even more.
The truth is, my relationship with God has been strained at best. I have not been the same Beth since my website launched, though I'm sure some sort of change was inevitable. Life was easier when no one else was reading my thoughts. I hate to admit this, but I have been consumed with myself. My goals, my writing, my uncertain future…
In the midst of my irksome worrying, two words materialized in my brain. Humble. Yourself. Knowing I had seen this word combination before, I flipped to the back of my Bible and hunted. As soon as I looked up the reference, I knew that God was meeting me right where I was at.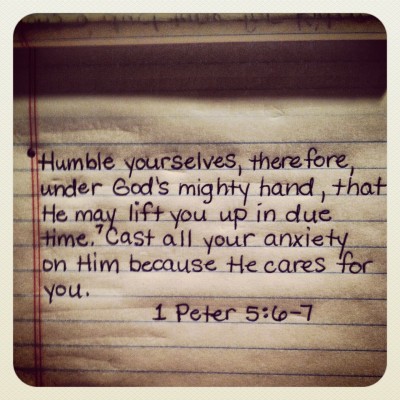 He called out my piling up sin-mess. In all areas, I humbly agreed with Him and asked for His forgiveness. And then, as the second verse struck me, I burst into tears. How genius is it that verse six is followed by verse seven? In one breath I'm told to make myself nothing and acquiesce to His superiority; the next I am reminded that the very same unrivaled Being cares about my soul vomit. I think He even holds my hair back as I retch.