Well This is Embarrassing
Rejection is a cold dish no matter how warmly it's served.
My sister-in-law Janette and I were standing in my office talking this past Monday while I was absentmindedly checking my e-mail. I spotted a correspondence I'd been waiting for, so I clicked it open.
"Oh," I said casually, hiding my sudden inner tumult. "My book proposal just got rejected."
I'm thankful the rejection was given kindly, but no amount of kindness can dam the emotions that followed. Poor Janette—she was the unfortunate one who was forced to respond to my news first. She did great though. And my husband's arms were quickly around me in support.
That night, I dreamed the other literary agent I sent my work to would reject it as well. She was also kind. The two of us met up at the DMV to go dumpster diving (don't hate until you've at least tried it). Every item she pulled out was her creative feedback for why she was rejecting my work: the scissors were because there were many words I needed to cut, the ring because I wrote in nonsensical circles, the toy 747 because I had trouble landing the plane.
I didn't want to write this post at all. Sharing my triumphs is easy, but my rejection is embarrassing news. So why share? I figure it's the easiest way to get over myself and move on. This will also give me practice for the other agent's likely rejection in real life. 🙂 My unhappy tidings made me grateful for the sign I made a few weeks ago. It's the first thing I see when I set foot out of my bedroom each morning and is my honest prayer—no matter what.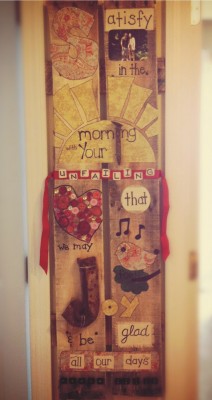 "Satisfy us in the morning with your unfailing love, that we may sing for joy and be glad all our days." Psalm 90:14