Etcetera
Hello there! I hope your day is swell so far. Before I get back to my thousandth attempt to properly format Let Me Fall for the Kindle, allow me to share some purchasing details with you.
When to buy Let Me Fall:

On April Fools Day (no joke)! Or, roughly translated, in 3 days, 21 hours, and 10 minutes.
Where to buy Let Me Fall:
1. On the home page of this very website. If you're not local and want me to sign your book, this is the only way I'll be able to do it. (But make sure to mention you want me to do so while you're checking out.)
2. On Amazon, where you'll also be able to purchase the Kindle version if you so desire. (I promise it will be ready by Monday!)
3. If you're local, and can wait until Saturday, April 6, you can pick up a copy during my first book signing. It will be at the Conway Chick-fil-A from 11 am – 2 pm. Please consider coming out to support me and grab a tasty lunch in the process!
And please don't forget about the Kindle Fire giveaway on April 15! I don't want you to miss out on adding your name to the pot.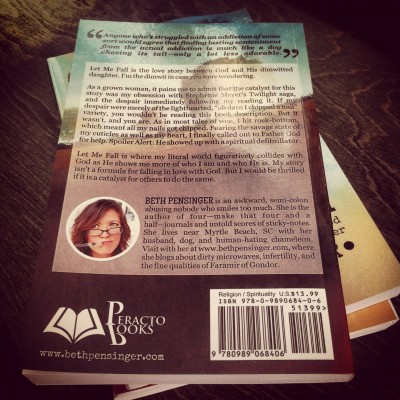 What the back cover says (in case you don't have Spidey vision):
Let Me Fall is the love story between God and His dimwitted daughter. I'm the dimwit in case you were wondering.
As a grown woman, it pains me to admit that the catalyst for this story was my obsession with Stephenie Meyer's Twilight saga, and the despair immediately following my reading it. If my despair were merely of the lighthearted, "oh darn I chipped a nail" variety, you wouldn't be reading this book description. But it wasn't, and you are. As in most tales of woe, I hit rock-bottom, which meant all my nails got chipped. Fearing the savage state of my cuticles as well as my heart, I finally called out to Father God for help. Spoiler Alert: He showed up with a spiritual defibrillator.
Let Me Fall is where my literal world figuratively collides with God as He shows me more of who I am and who He is. My story isn't a formula for falling in love with God. But I would be thrilled if it is a catalyst for others to do the same.
BETH PENSINGER is an awkward, semi-colon abusing nobody who smiles too much. She is the author of four—make that four and a half—journals and untold scores of sticky-notes. She lives near Myrtle Beach, SC with her husband, dog, and human-hating chameleon. Visit with her at www.bethpensinger.com, where she blogs about dirty microwaves, infertility, and the fine qualities of Faramir of Gondor.