When Speaking to Those Not Expecting…
When a person is describing the depths love can reach, they will sometimes use the phrase, "If you have kids, you understand…" I know this is a true statement. It is never meant to be a dig at non-parents. Still, when I heard it recently uttered among a group of friends, I felt a stab in my left ventricle.
"Thanks for reminding me I have no clue what that kind of love feels like," I snarled back internally. "This seems like Safety Patrol all over again, times a million." In my defense, the comment struck during a period of hormonal imbalance. But even when I'm in my normal frame of mind, hearing the phrase makes me see parenthood as an elusive secret society many of my friends are a part of. And I'm not invited.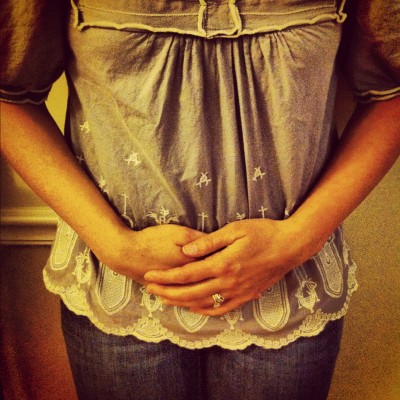 I quickly curbed my pitiful thoughts, giving myself a stern talking to. "Oh great Beth. Are you gonna become one of those people? Hyper-sensitive, mercurial, and neurotic? Is this what I get to look forward to?" I could see myself thirty years down the road—barren, bitter, and surrounded by twenty cats.
It is with my adverse reaction in mind that I'd like to give all those who are not struggling to become a parent some tips for communicating with those of us who are. (I also think these suggestions are good for speaking with those not yet married, those who are grieving, and, well, maybe everyone on the planet.)
We don't want pat answers to try to make us feel better. They don't. We mentally roll our eyes. Talking about how young I am and how much time Jerimiah and I still have makes me want to slap you in the face with a glove.
Don't be afraid to ask how we're doing. Sometimes we actually want you to. We may or may not bust out crying—it's a risk you'll have to take.
After we've word-vomited and/or cried all over you, remind us we are not the only ones on the planet. Translation: Get your head out of your butt and stop being so self-focused. (You are only allowed to say this if you're a close friend.) It's easy to fall into a pattern of feeling sorry for ourselves, so occasional reality checks are healthy.
Around the same time I heard the "if you have kids you'll understand" statement, one of my best friends and I were talking about her children. Suddenly she blurted out, "I would have babies and give them to you if I could. I want you to have kids so much." Her words died down to a whisper as unshed tears pooled in her eyes. She meant every word. I grabbed her in a hug fierce enough to crush a small cypress as saltwater plodded down my cheeks.
She gave me something I didn't even know I craved: empathy. She was hurting for me. As a parent herself, she knew exactly what I was missing out on. But she was vying for me to be invited into the elusive secret society.
And now, weeks later, her empathy is still a balm to my left ventricle.